Welcome to the Route of Megalithic Culture
330 kilometres of scenic route lead you to 33 exciting archaeological sites through Northwest Germany. On your way you will find more than 70 Neolithic (3.500 to 2.800 B.C.) megalithic tombs.
Come along on a joint expedition ...
The Route of Megalithic Culture shall contribute to a better understanding of the environment of people who lived in Northwest Germany 5.000 years ago.
At the 33 sites the function of the graves and their construction will be explained, as well as the understanding of nature, everyday life and the ideas on the afterlife in those days. In some cases the scenic route leads to groups of Bronze or Iron Age grave mounds from more recent times.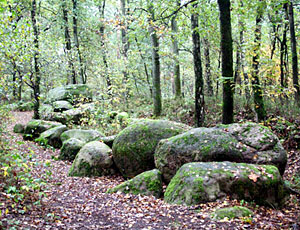 The Route of Megalithic Culture runs through the areas of Osnabrück, Ostercappeln, Belm-Vehrte, Wallenhorst, Bramsche, Ankum, Berge, Bippen, Fürstenau, Freren, Thuine, Lingen (Ems), Meppen, Sögel, Werlte, Lastrup, Cloppenburg, Visbek, Großenkneten, Wildeshausen, Dötlingen, Ganderkesee and Oldenburg.
Follow us and discover the millennia-old megalithic culture ...
Partnerships in the World Wide Web
Ferienstrassen.info (scenic routes) »»» is a portal to outstanding touristy routes in Germany, Europe, North America and Africa. You may travel these routes by caravan, car/convertible, motorcycle or bike. Following these routes will give you exciting insight into history and culture of the regions or countries you are travelling.