Clemenswerth Palace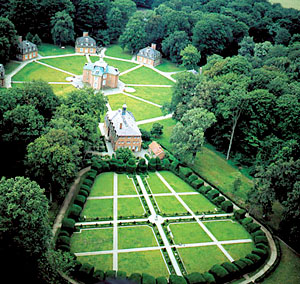 Elector Clemens August I. of Bavaria concluded a contract to build a Jagdschloss (=hunting lodge) in the Emsland woods near Sögeln when he was prince bishop of Münster. The renowned Münster architect Johann Conrad Schlaun who decisively shaped the development of baroque construction in the bishopric of Münster was in charge of the project. The palace was built between 1736 and1747.
The star-shaped centrepiece of the site has a centric Corps de Logis and radial aligned pavilions housing chapel, library, kitchen, cavalier and wash house. Palace constructions of the House of Wittelsbach served as typological archetype: Jagdschloss Forstenried near Munich, Bouchefort Palace near Brussels. The Corps de Logis was most likely inspired by the Pagodenburg in the park of Nymphenburg Palace in Munich.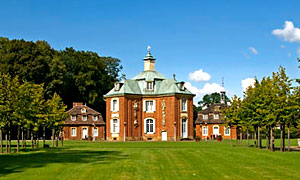 The site is embedded in a wide park landscape, eight alleys spread star-shaped from the palace. The main axis is west-east oriented, connecting Sögeln village with the palace and stops in the east at the big water basin.
Throughout the year numerous cultural events take place at Clemenswerth Palace.
For more information click here: