Old Alexander Church Wallenhorst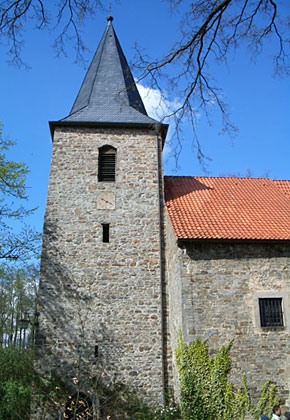 The old Alexander Church Wallenhorst is a jewel in the crown among medieval churches in the Osnabrücker Land. Surrounded by genuine old trees and farms of the former village centre the church is today hidden off the beaten track, because Wallenhorst village north of Osnabrück was relocated in the 19th century.
The church was first mentioned when relics of Saint Alexander were moved to Wildeshausen in 851. It is therefore one of Lower Saxony's oldest church foundations. There are no more traces of this very first building in the masonry.
Various renovations and modifications up to the 13th century have shaped today's appearance of the church. First galleries heightened the aisles of the 11th century basilica. Then the separating aisle vaults were removed again and a clerestory was added on the central nave, so the church got again a basilican profile. The choir is a new construction of the late 13th century, the tower is gothic.
Despite the considerable alterations, the Alexander church in Wallenhorst appears to be a self-contained and homogenous example of architecture of the High Middle Ages.