Site 17: Volbers Hünensteine (Giant Stones) (17a)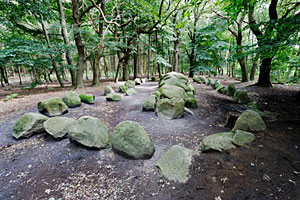 This remarkable grave is in a small forest north of Hüven village. Surrounded by oak trees Hüven-Nord is one of the best preserved megalithic sites of the Hümmling and beyond.
The grave chamber is a stately 15 metres long and had eleven bays of which eight capstones still exist. The enclosure, 22 x 11 metres, is also almost complete.
Site 17: Megalithic Grave Hüven-South (17b)
This grave is situated close to Hüven Mill south of Hüven. Contrary to its famous counterpart Hüven-North it is only a small grave. Most parts of the grave are still embedded in a 22 x 16 metre big mound, but it is likewise well preserved. All three capstones and the chamber's orthostats are in situ preserved.
Site 17: Megalithic Grave Lähden-North (17c)
This massive grave is right next to the road from Hüven to Lähden south of Hüven mill. Despite its rather bad state of preservation is its significance clearly visible. Only ten of the chamber's formerly fifteen capstones still exist. The double enclosure round the grave is quite extraordinary. The only other grave with a double enclosure is in Thuine in the southern Emsland. The Lähden grave is 25 x 7 metres in size.
Directions for PDF-download: