Town of Meppen
Meppen, county seat of the Emsland, is situated at the confluence of Hase and Ems. Osnabrück and Oldenburg are starting and final point of the Route of Megalithic Culture, but Meppen is its centre. The town has an attractive centre and is the ideal point of departure for any excursions to the many megalithic graves of the Hümmling, a sandy ridge northeast of Meppen.
History
Meppen was first mentioned in Carolingian times. Louis the Pious assigned the place to Corvey monastery in 834 as missionary cell. In 946 market rights were granted and in 1360 the right to build city fortifications. In the 15th century Meppen became member of the Hanseatic League. In the course of counter-reformation it became the siege of Jesuit order and centre of the movement in 1613. During the 30 year-war Meppen was a fortified town, the towns surrounding ramparts still tell the story. The economic boom years were mainly between the late 18th and early 19th century, due to haulage industry.
Interesting Sights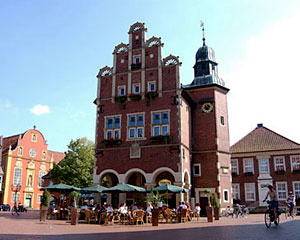 Meppen has an attractive centre with considerable historic structures. The Propstei Church St. Vitus has Carolingian roots, but today's late gothic hall church was built in the second half of the 15th century, remains of a 13th century predecessor are incorporated. The basement of the town hall dates from early 15th century and may also be called medieval. A storey was added between 1601 and 1605 as well as the stepped gable facing the market square. Architectural forms relate to Weserrenaissance and Dutch influences. The former Jesuit church (Gymnasialkirche), built between 1743 and 1746 has no tower, a three-dimensionally divided façade, a single- nave interior and is perfectly integrated into the street of houses: traditional Jesuit architecture of national standing.
Emsland's archaeology exhibition centre (Ausstellungszentrum für die Archäologie des Emslandes) that opened in 1996 at Kulturzentrum Koppelschleuse is of special significance in connection with the Route of Megalithic Culture. The findings, models, orchestrations and reconstructions on display in the permanent exhibition communicate a complete picture of Emsland's cultural development from Stone Age to Medieval.
For more information click here: