Alexander Church Wildeshausen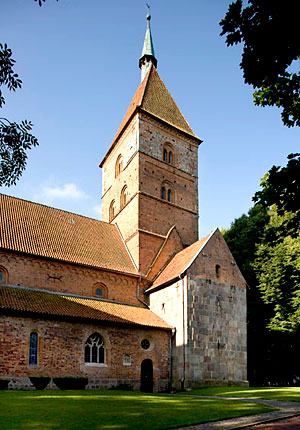 The former collegiate church at Wildeshausen is one of the most important church buildings in the Weser-Ems-Region and one of the earliest brick buildings outside East Frisia. The church is situated in the town centre of Wildeshausen in the middle of the old prince-bishopric district close to the Hunte escarpment.
In 851 the remains of St. Alexander were transferred to Wildeshausen. Nothing is left of the former church which was presumably a wood construction. The foundation stone of today's church was laid in 1224 after the western towers had collapsed. The late 12th century westwork of granite blocks was integrated in the new construction. In 1250 the choir was added to the nave. The slim tower on top of the westwork was a gothic addition. The elaborate sandstone porch of the western façade has been caved in during the 2nd quarter of the 13th century.
The late Romanesque brick-built basilica follows the example of Osnabrück cathedral: it has a cross shaped floor plan with transept and straight choir. The crossing finally leads to an octamerous vault with final ring just like the Church of Our Lady in Bremen.