Site 29: Reckum Stones (29a+b)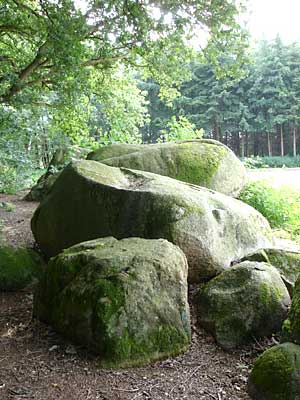 Two megalithic graves are southeast of Wildeshausen close to the Hunte river banks not far of Reckum village. They are the last surviving witnesses of megalithic culture of a once bigger group east of the Hunte river. The two graves - at the edge of the forest and in a field – are unfortunately closely surrounded by trees and therefore their fairly good condition is concealed.
Grave I is difficult to access. The chamber is 14 metres long and only in its western parts disrupted. Grave II is just a couple of metres away and has an intact 19 metre long chamber with eleven bays. Just some capstones are off-centre. Both graves do not have an enclosure (anymore).
Directions for PDF-download: